Make your strategy ready to execute
It is Visual, Digital and Prioritized
Next Generation Strategy
Strategic Leadership crisis plan, continued
Our previous post Strategic Leadership through the current crisis has generated a lot of interest.
Leaderships in most organizations are severely challenged by the global COVID-19 crisis.
Visual Strategy enables Strategic Crisis Leadership by visualizing the organization's crisis plan. The plan is the visual overview, each Decisive Point in the visual plan is supported by a coherent set of Actions that are validated and monitored.

The plan is shared on Microsoft SharePoint and supports collaboration in Microsoft Teams, enabling strategy execution in remote work environments.
Visualize what needs to be done
Strategy is a coherent set of actions leading to a wanted position. To be competitive, your advantage position must be unique and the strategy is what you will be able to achieve over time and how you are going to be unique.Challenge your position in what really brings value to market, don't settle for lofty statements and hope it will work.
We guarantee results from a chosen strategy
The challenge all organizations have is to take a formulated strategy into implementation and successful execution.

We develop your formulated strategy into a coherent capability based strategy that is aligned and ready to execute.

For a sustained growth strategy
Express your distinctive capabilities
to deliver value
Express your distinctive capabilities to deliver value
Capability is the link between actions and impact where a coherent interplay of actions and capabilities delivers the strategic intent. To have a coherent strategy is to have 3-6 distinctive capabilities that reinforce each other together with a line-up of selected products and services.

A coherent strategy is a visual plan with key choices and actions linked with reinforcing distinctive capabilities that creates the map where-to-play, how-to-win and the advantage position where to be in. All summoned in our visual solution, comprised of three unique and distinctive views.
Our approach is a Capability Driven Strategy Execution, leveraging our visual method and tool in three stages:

Capability Definition and Prioritization
Together with the organization we define and prioritize those capabilities that are critical to achieving the organizations strategic objectives.

Capability Action Planning
Key Initiatives required to build the capability.

Capability Execution
Action plan in SharePoint aligned with operational controls.

This results in effective execution and can be applied to overall strategy or specific strategic problem solving.


Based on scientific research
Our strategy model is built on knowledge from the most respected business management institutions
Our model is built on years of experience from a variety of industries, agencies and institutional domains.
The model has a generic foundation that makes it independent of any type of pre-defined strategy, its focus is on doing things with support of IT and well documented methods!

Our offering is to provide you with a visual game-plan to deliver your strategic intent and the desired value proposition.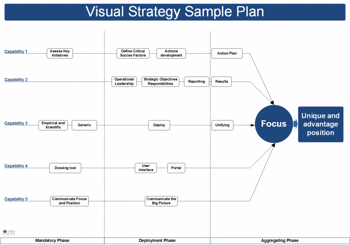 We will take on from a given high level strategy formulation or directive, work-out a defined wanted position, align the position with no more than 5 objectives and 3 - 6 distinctive operational capabilities.

All Actions will be aligned with the operational capability driven implementation model. All this is done with a logical visualization structure that empowers the leadership to communicate the strategy throughout the organization.

With our visualization model, organizations have a clear understanding of the wanted position to be in with related what, how and why questions verified to get there.
Latest Blog Post: Strategy works best with our long-term memory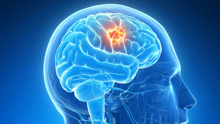 When working with strategy, we need to differentiate the way we work our short-, and long-term memories.
To be successful with a chosen strategy is to define the end-state position with a visual context combined with a textual language of who is doing things. Read more »