Good Strategy / Bad Strategy - The difference and why it matters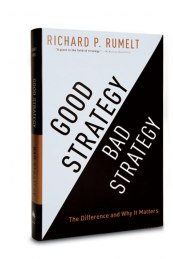 Richard P. Rumelt's latest book Good Strategy / Bad Strategy is a must read for all decision makers.
Out of all the literature written about Strategy, Rumelt has a different and honest approach to strategy in his latest book.
For example, in the real world many leaders don't understand and will not comprehend what strategy is – and you can't win them all, leave it and move on.
What I really like in his book is that he has explained the academic and scientific foundation to what strategy is. He talks about "The problem of induction" and explains the reasoning behind "The system of deduction".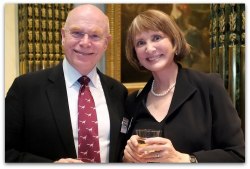 Richard P. Rumelt is a Professor of Business & Society at UCLA Anderson, a graduate school of business and management. He studied decision sciences and corporate strategy at the Harvard Business School, receiving his doctorate in 1972.
Further on, Rumelt uses real world examples from well-known organizations/companies such as Apple, Wal-Mart, Ford, NASA, Toyota, Starbucks, IBM, IKEA, Pentagon and many more, explaining how they did it. And it makes it easier to understand the theory when it is put into its real life context.

Many of the things Rumelt say comes across as obvious, ever so often organizations define their strategies with "optimistic financial goals" or "fluffy statements of vision and mission". That is not a strategy. "A good strategy has coherence, coordinating actions, policies, and resources so as to accomplish an important end."

We share the same experiences Rumelt describes.
Our tools for creating strategic plans incorporates much of the way of his thinking. We always start from a Guiding Policy composing an end-state and a visual plan comprised of structured coherent actions leading us to the end-state.

Without action, the world would still be an idea.
/Richard P. Rumelt

More on Richard Rumelt
The book Good Strategy / Bad Strategy home page
Richard Rumelt's Blog
www.strategyland.com